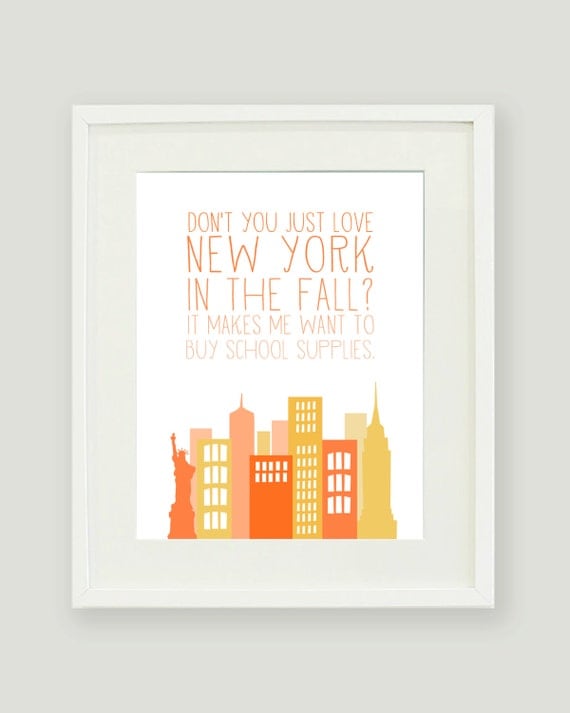 Fall has officially hit New York, which is quite well-timed considering the seasons officially changed around 10:30 PM last night. (these are the things you learn when you spend each morning watching the Today show) Meaning this morning was our first glorious day of sunny skies and chilled air. Those crisp mornings are so fantastic after months of sweaty, hot sunrises.
This past weekend we had visitors again! Cara, my former Boston roommate texted on Thursday explaining that her brother was in New York. He's also in the military (Air Force) and visits can be sporadic so I understood how lucky it was to be somewhat close to each other. So Cara and Stephanie made a quick trip down for Saturday night. We met up and spent Saturday slurping oysters and chardonnay at Fish in the West Village at 11 AM, eating spicy Jamaican food at Miss Lillys with her brother, wandering through Central Park, and finally drinking at a very dark dive bar in the Upper East along Lexington. They continued on, but I headed home to celebrate a friend's birthday with Selemon. The celebration included guacamole, pumpkin cookies, their puppy Lucy, and Cards Against Humanity…otherwise known as the perfect way to spend an evening.
The next morning Cara, Stephanie, and I walked to Baz Bagels where I had my first official New York bagel! It was smothered in scallion cream cheese, onions, and lox as all good things are. They headed back up to Boston and Selemon and I had a cozy evening making a Sunday night dinner of wine simmered chicken.
Selemon flew out very early on Monday morning and has been traveling, so I'm holding down the fort and ushering in the new season alone. Thankfully the parks are full and the air is more energized than ever, so I'm actually surrounded by the best company in the world.
Oh, and my legs are done running, for a month at least. I'm fairly certain the acute pain in my leg is a stress fracture. I have shin splints pretty frequently, but the pain I'm experiencing now is different, and I feel it even at rest. Or simply walking. I could go to the Dr for thousands of dollars of tests that would tell me to rest them, or I can make that call on my own. So no half marathon, which is a bummer, especially because the $50 race fee is nonrefundable. I'll try again later, with a more gradual increase in miles and a stronger base.
I hope you all have a lovely, crisp fall day wherever you are as well!
And before I go…do you recognize the quote from above? I just may rewatch it today….